Visiting Wartime Kyiv in July
Mariam Naiem · 7 Aug 2022 · Adapted from original Twitter thread
I haven't been in Kyiv since winter. I wanted to go back so badly, and I managed to visit in July. Here is a long thread about my time there. No analyses, only personal experiences.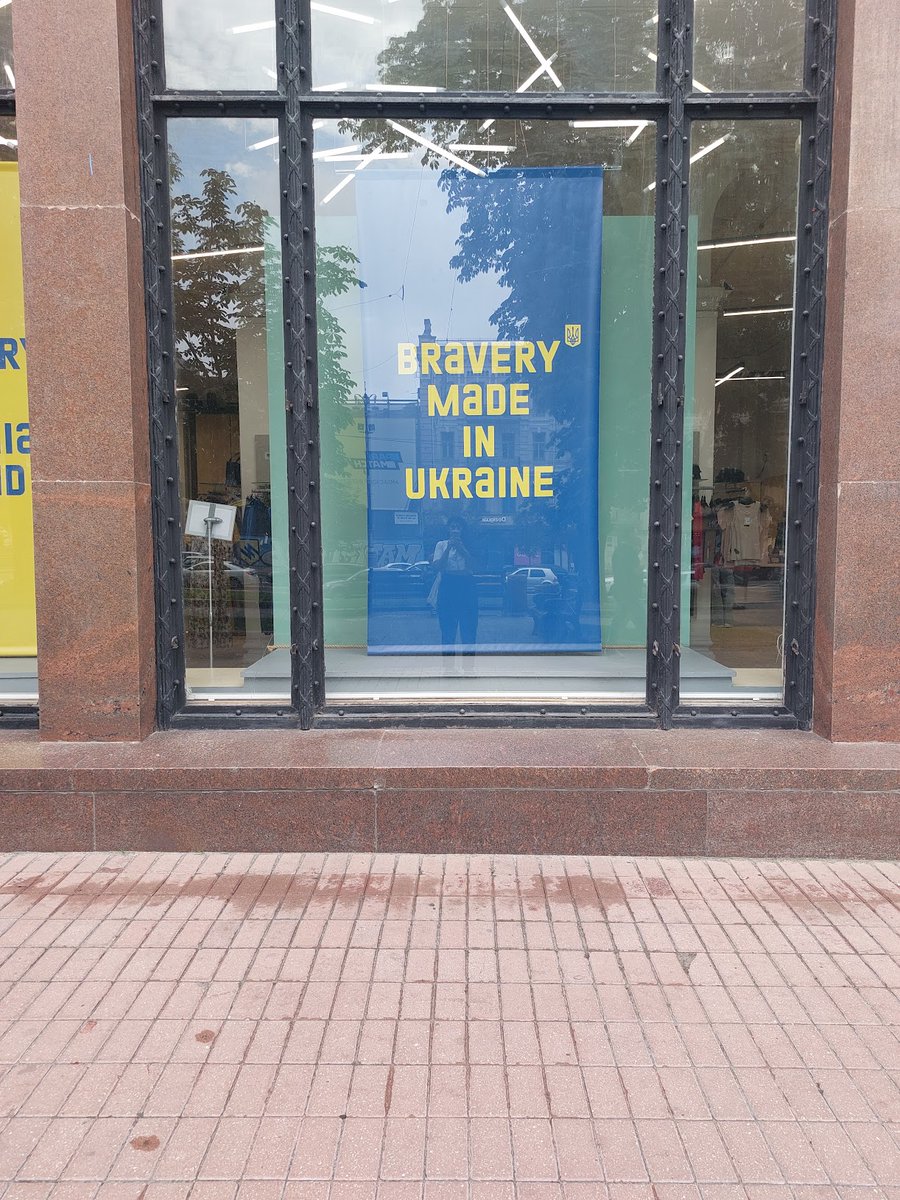 Was I scared to go there? In July the frontline was far from Kyiv, so not because of the war. I was afraid to see the gap between people I love in Ukraine and myself growing bigger.
I think there is a distance, a tremendous existential gap between a person who once heard air alerts and those who never heard them. It's a luxury not to experience the feeling of knowing that nowhere is safe.
The trip to Kyiv was long and included 24 hours on the train. I didn't have time to buy food, so I was lucky enough to be in a compartment with two lovely women who shared food with me. Btw, train was full of kids and women. The demographic consequences of this war in real life.
My fellow passengers were coming home to see their loved ones. I asked them what the hardest thing in this war for them was. One answered:
"I have been driving the whole night with my two daughters and 1wk-old grandson. I saw these scenes in movies where a woman is left on the street with her baby. I was always scared to be that woman. And here I am: my kids, night, bombs, and I don't even know where am I driving."
It was painful to hear. I didn't know that everyone in Ukraine would have stories like that.
We reached Kyiv. People were packing, the train stopped, and everyone was hurrying to leave the train. "Papa!" – one two-year-old kid saw his father through the car on the platform. I don't know how long he hasn't seen him. This sky was greeting us.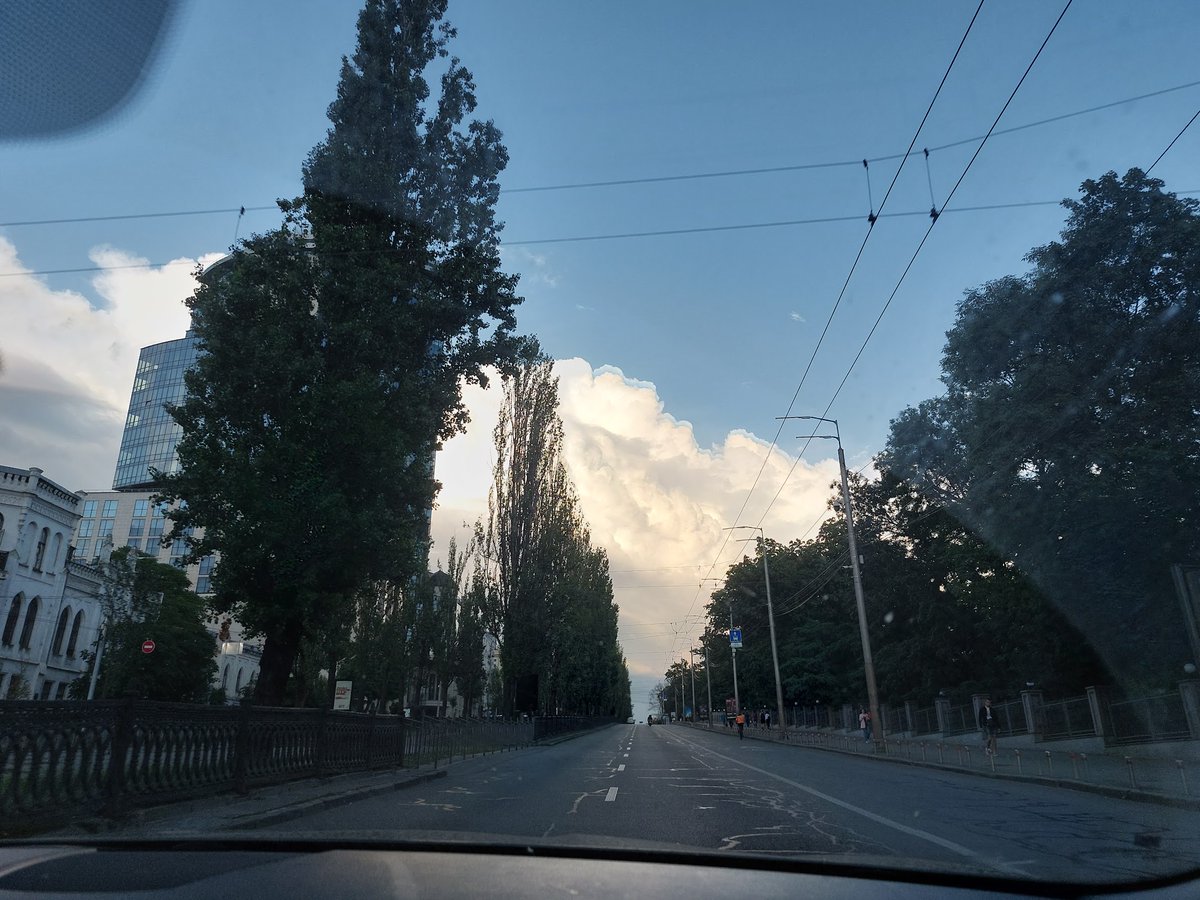 The city has changed. No monuments were visible, each of them covered with sandbag protection. Next to some — destroyed russian vehicles: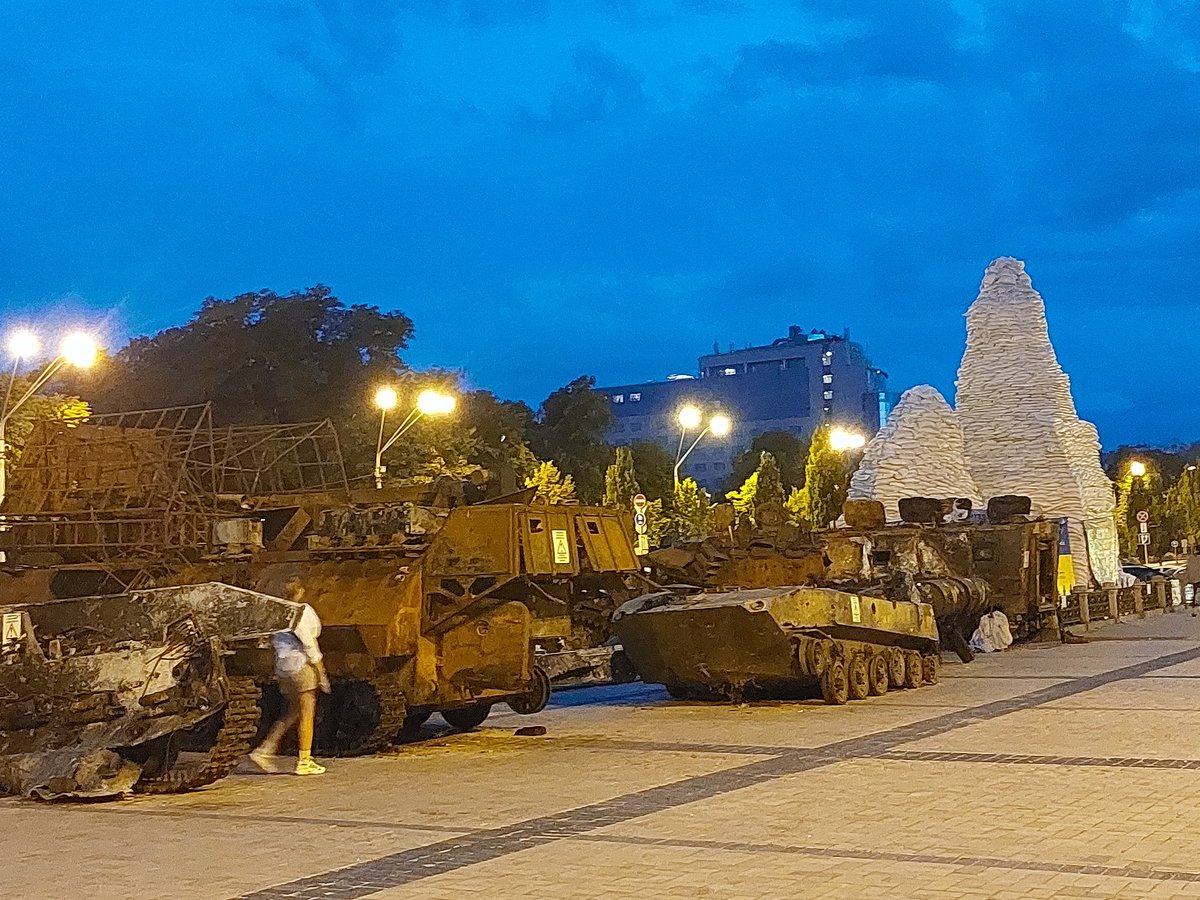 The city is big and lively but not during the night anymore. Due to the curfew, Kyiv becomes empty after 10 pm. It's unusual because typically this is the time to hang out with friends in the summer.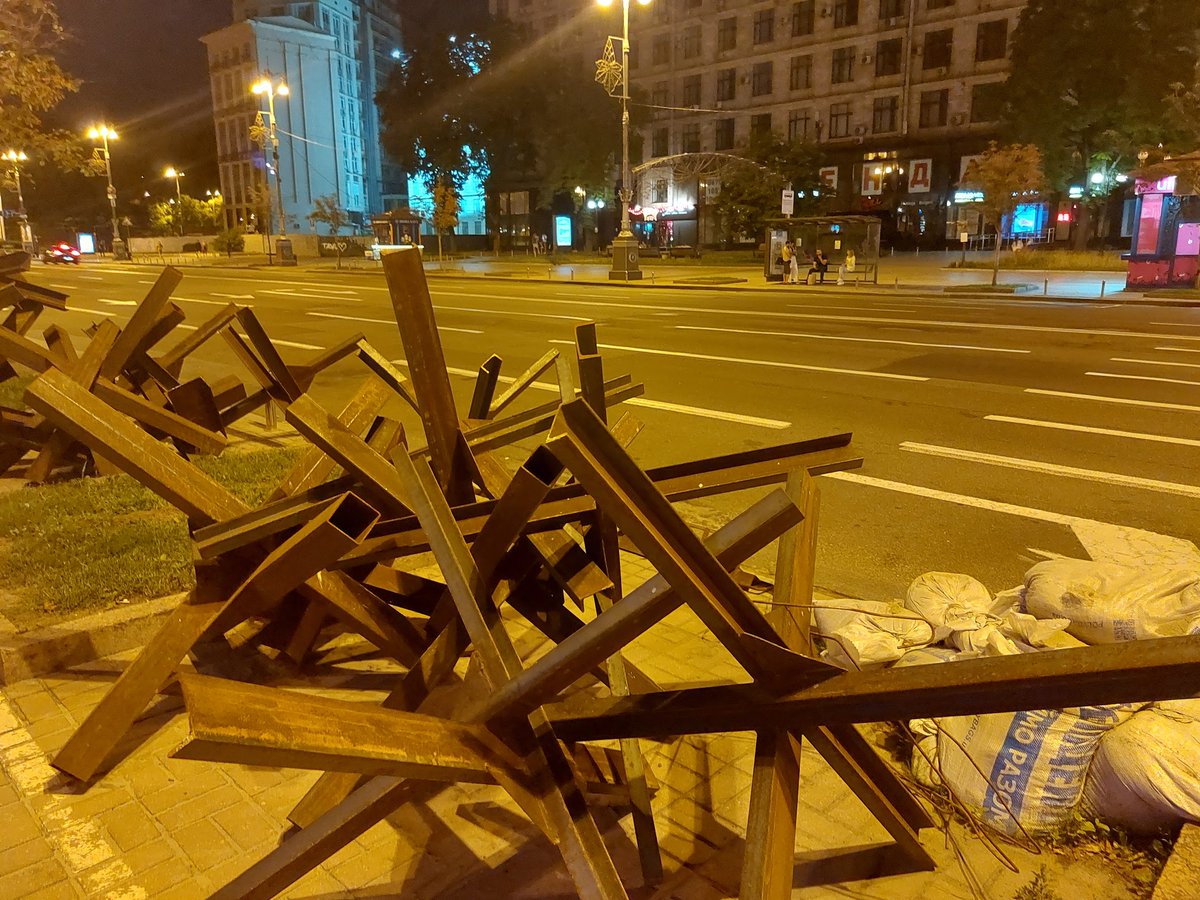 Not a lot of people are hiding in the shelters during air alarms. It is still dangerous, but living in constant fear is impossible. Tbh, I don't know how you can work during the day if you follow the rules and run to the shelter once-twice per night, staying there for 1+ hours.
So we sheltered in the bathroom.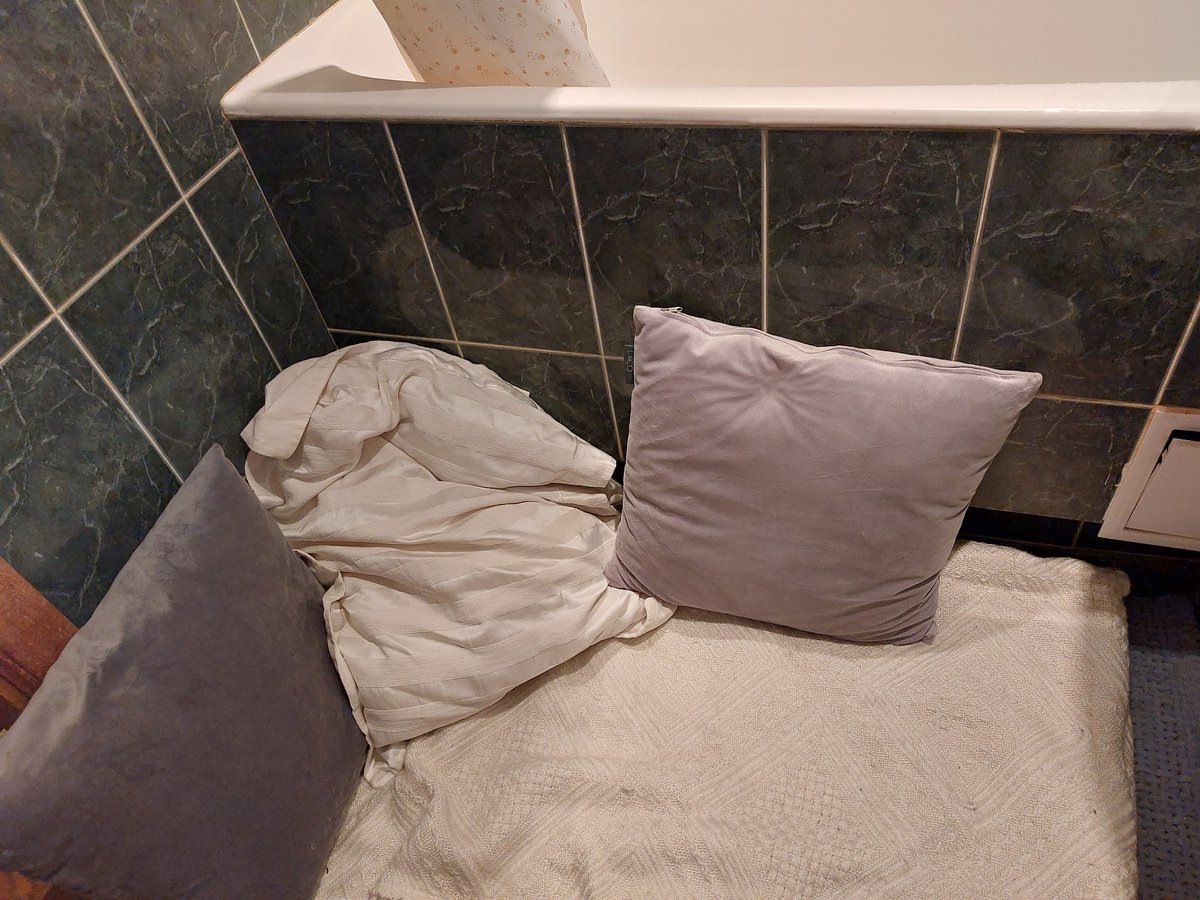 Once, there was another alarm at night. I didn't want to get up from my bed. "Not here, please, not here." I woke up and saw the news about the bomb shelling in Vinnytsa. It was indeed not "here." This was when I realized that each alarm is also the sound of someone's death.
The outskirts of Kyiv have a lot of traces of russian "liberators". People are taking pictures in front of them. It's hard to believe that someone in this vehicle came to my country to kill my people. This was so surreal to me. He might even have had relatives here.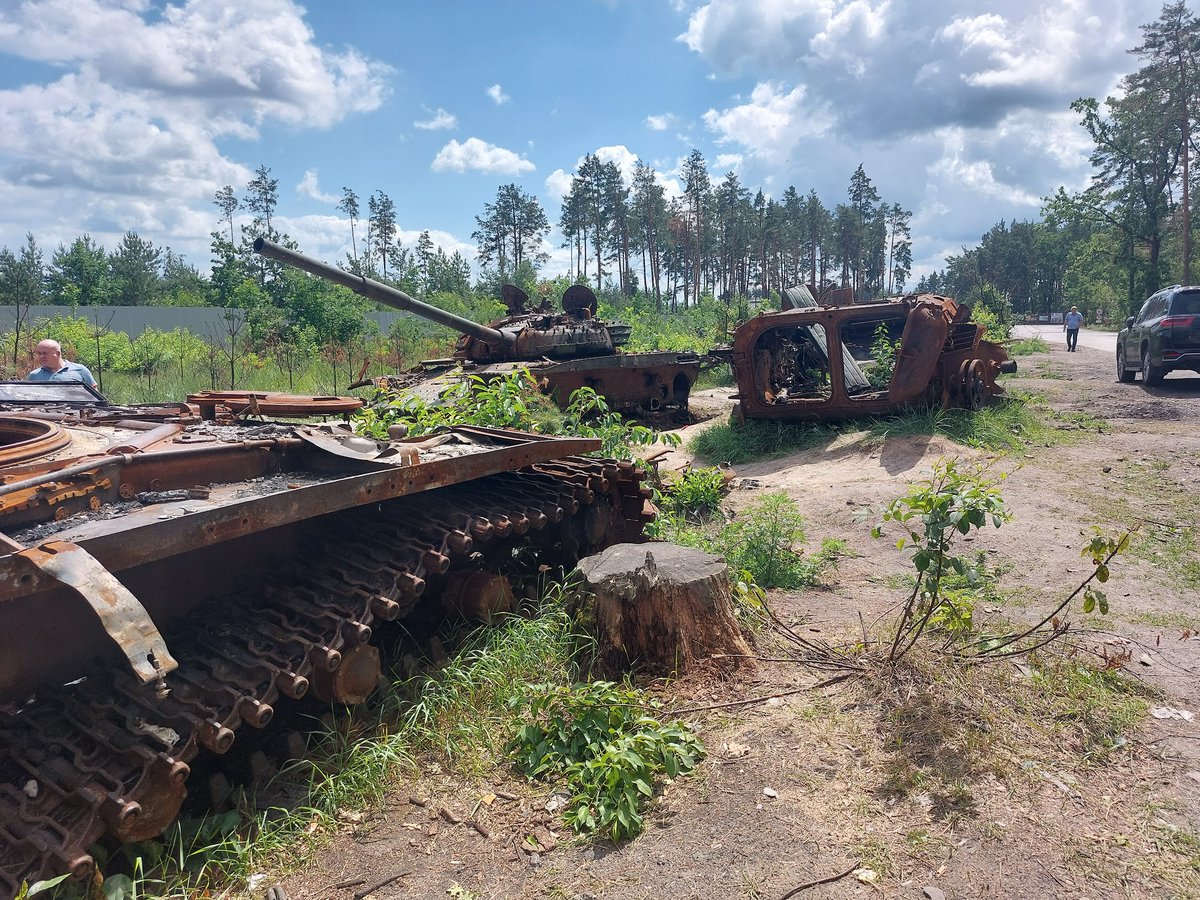 This is Borodyanka. If you zoom in enough, you can see people's past lives stolen from them. Everyday items became historical evidence of war.
No matter what, people are willing to continue their lives. Yes, during the war. Yes, they want to have their homes back.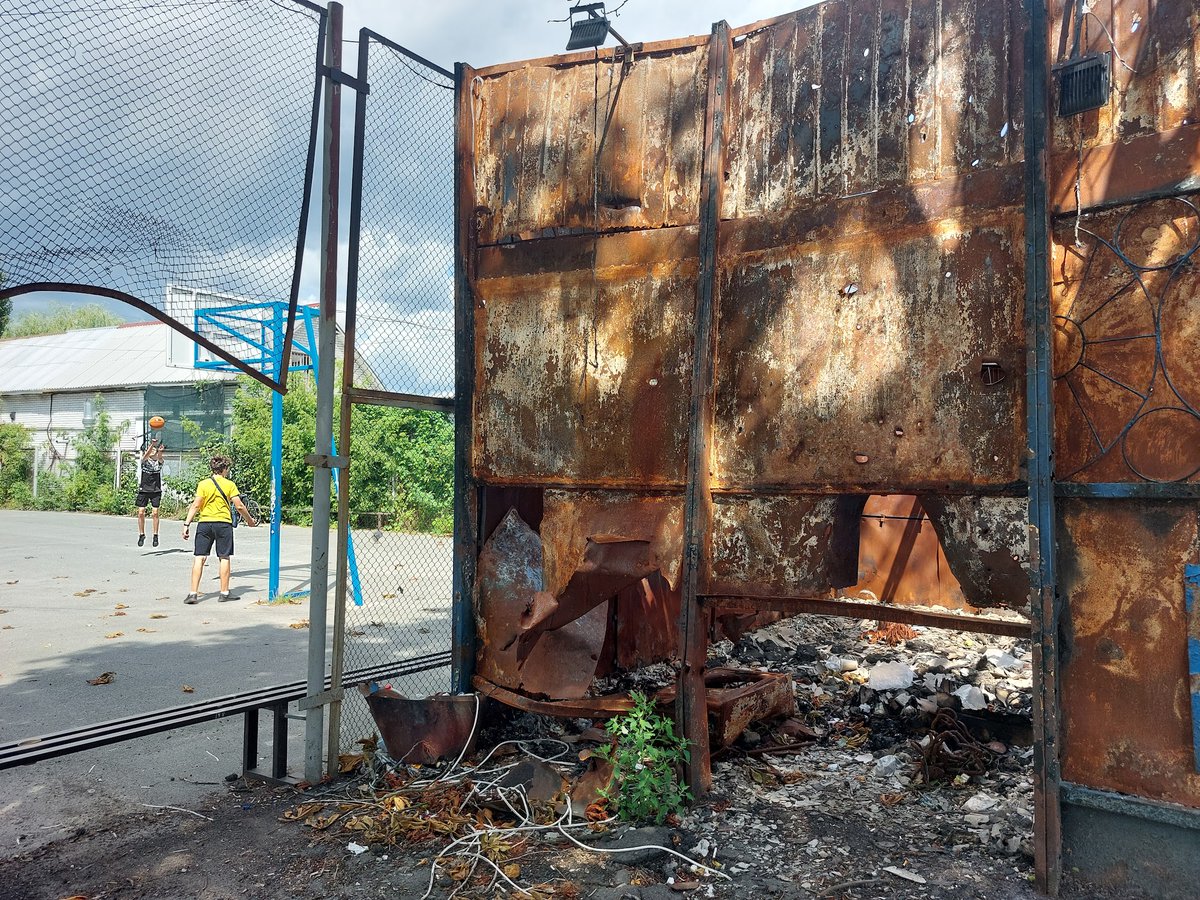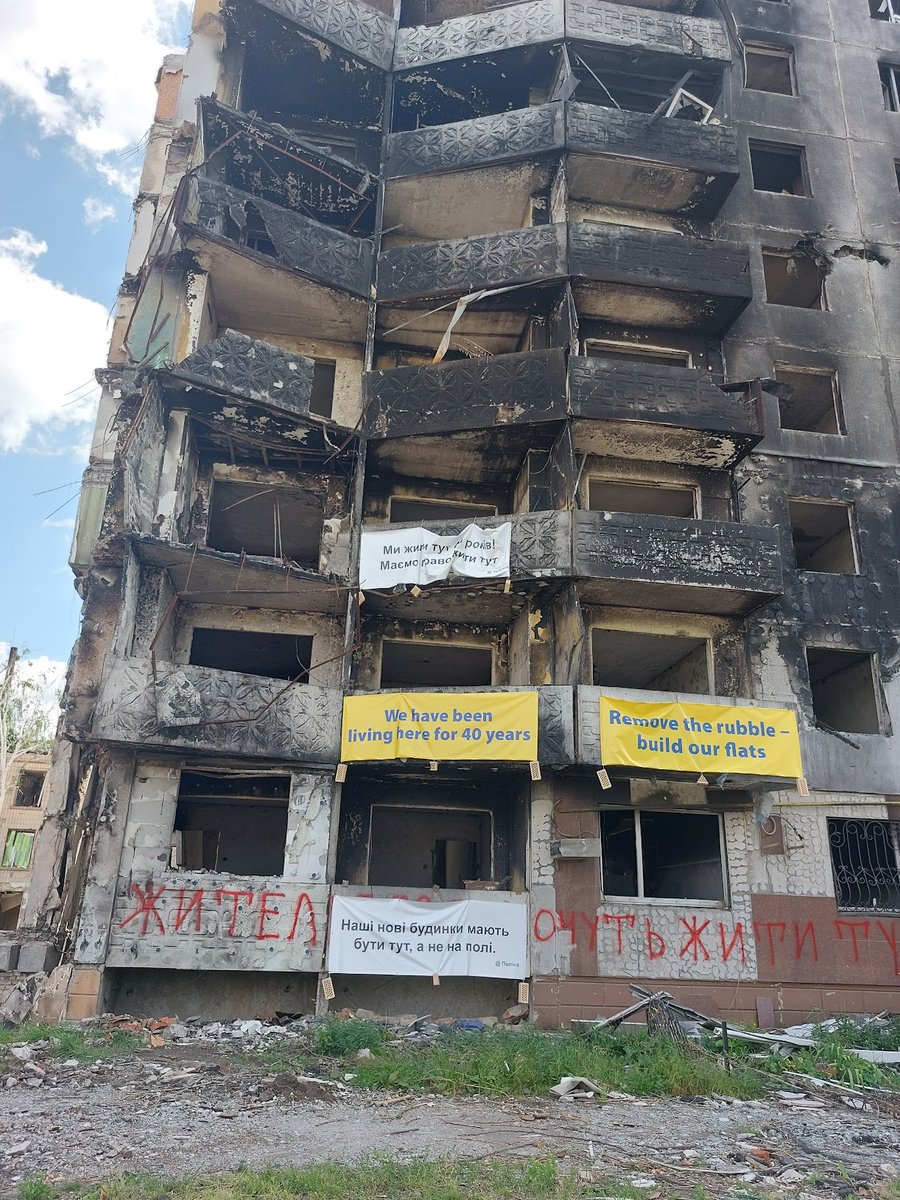 The neighborhood where I grew up was damaged quite a lot in Kyiv. It's hard to explain what it is like to see the places from your childhood like that. I have so many stories behind each brick.
That building with the clock has a mall called "Square". A long time ago, my family had a small souvenir shop there. Once when I was 11yo, after school, I sold my first souvenir in this shop. My father was proud of me and rewarded me with the money for the souvenir.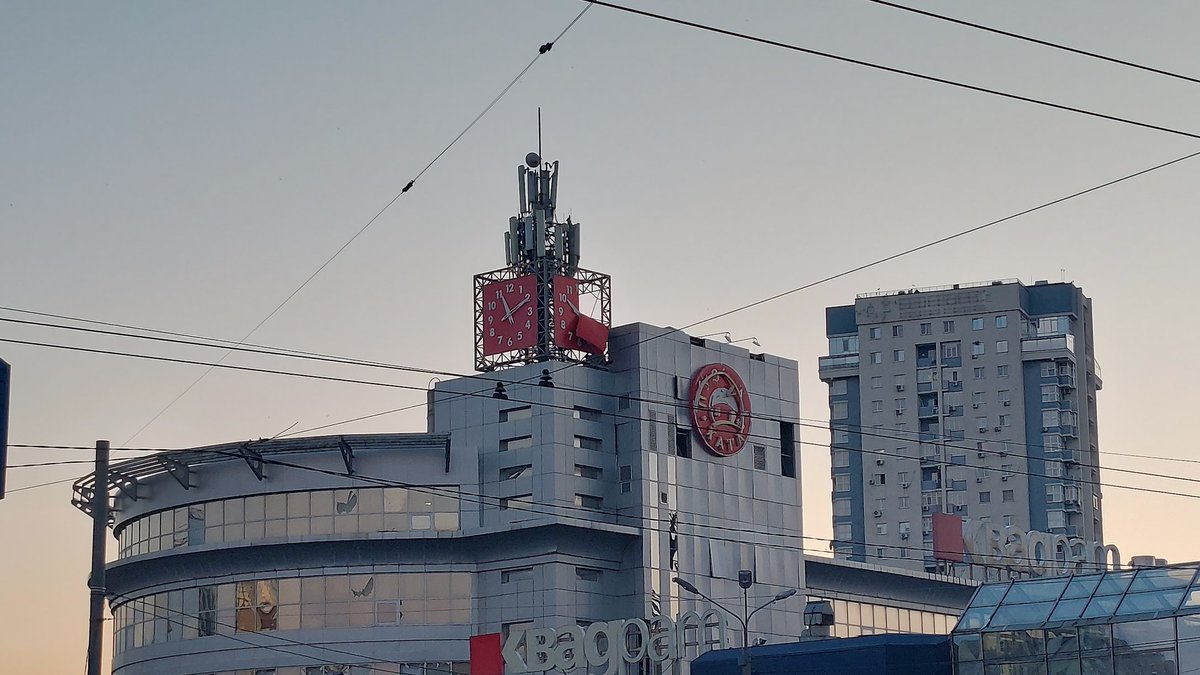 I drew this dove with dill when the war started in 2015. Since then, I modified this image from time to time. Last year I added a lot of red flowers. So I came back and refreshed the paint.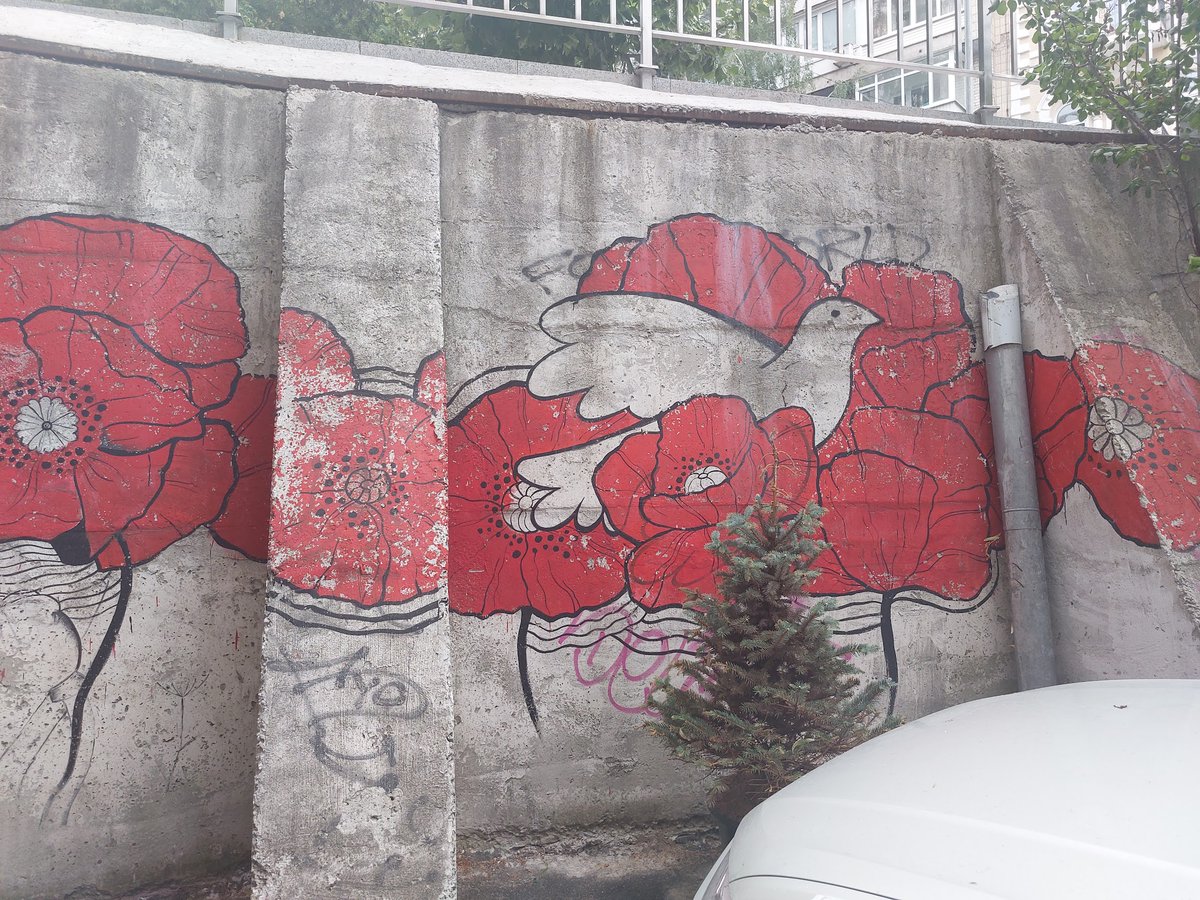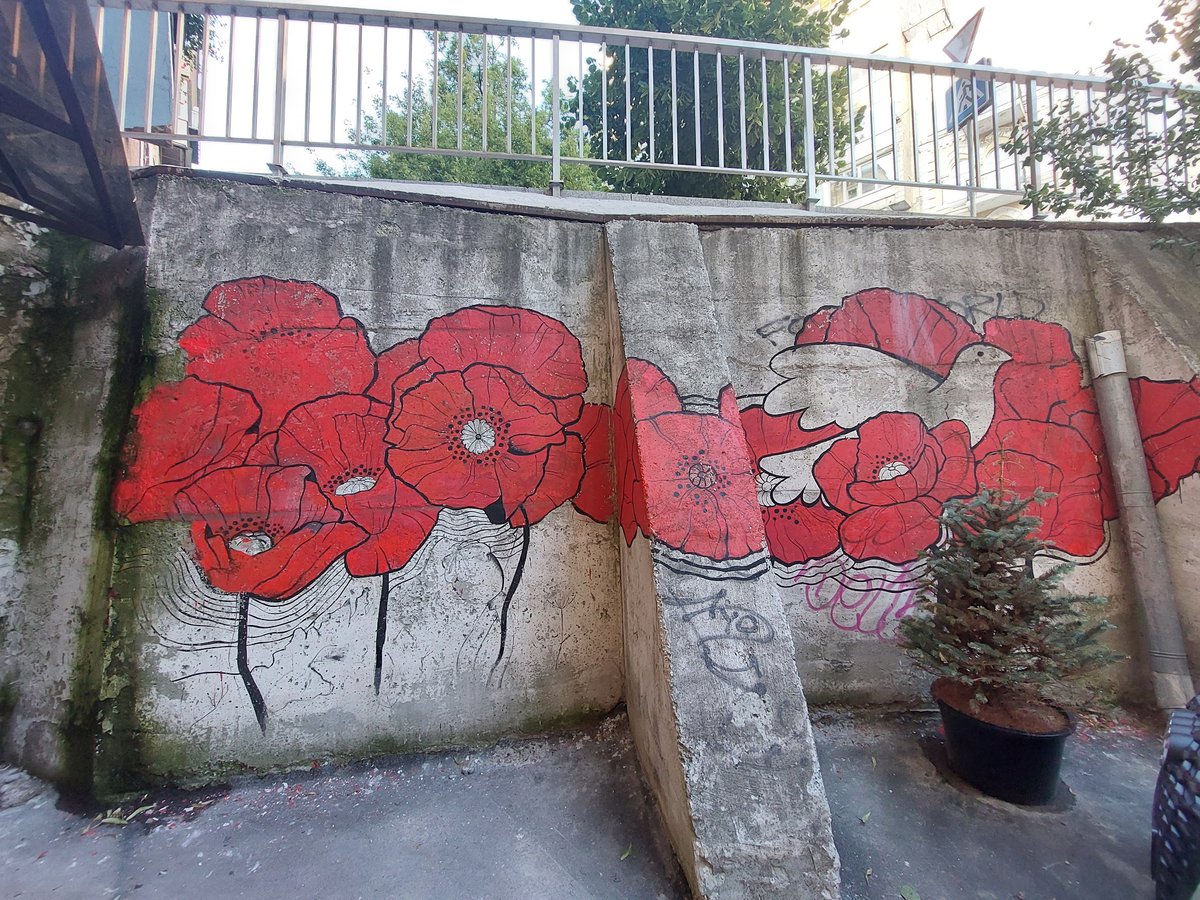 I also went to check on my father's eyes. Didn't have time to fix it, though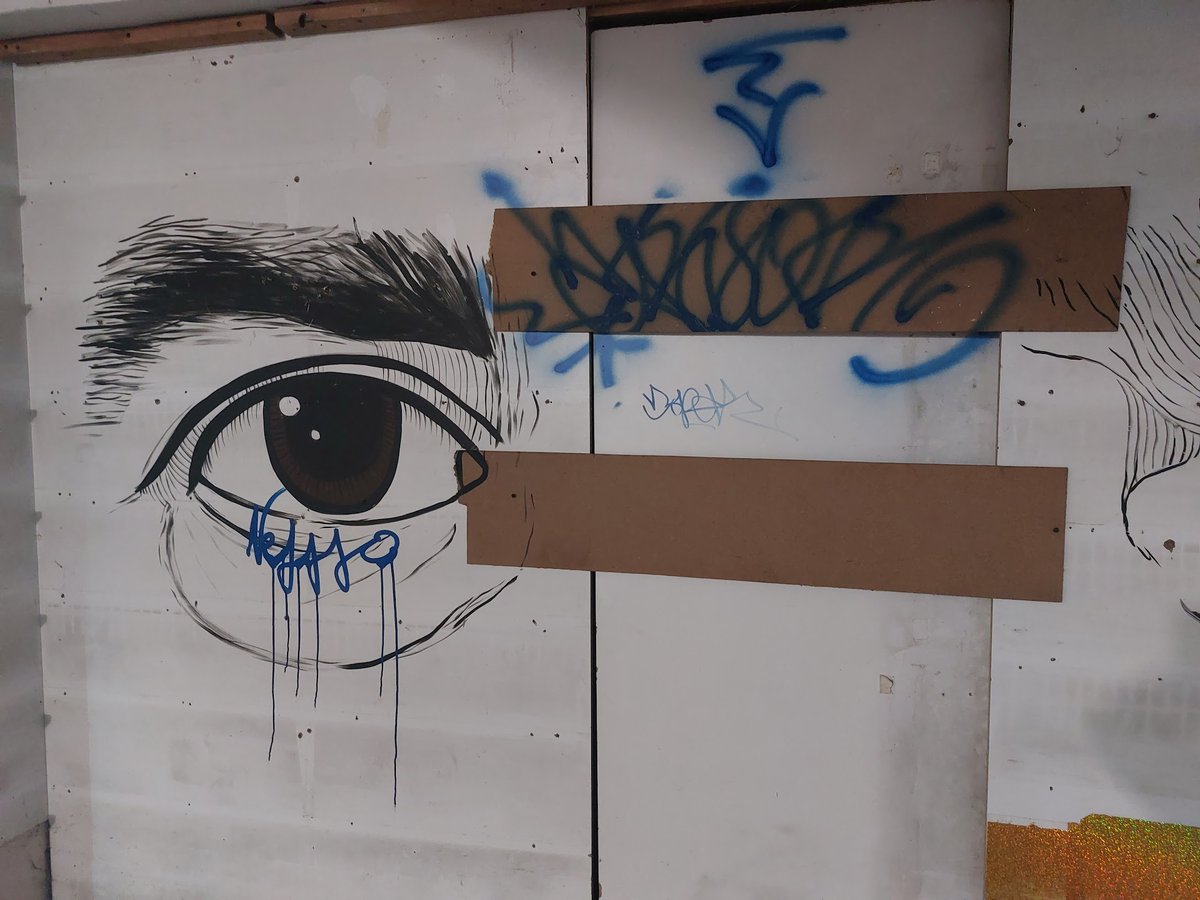 I used the time in Kyiv to hug everyone with whom we were virtually living through the last six months together. Here I am going to give some surprise flowers to someone. I'm still sad that I didn't have time to hug everyone.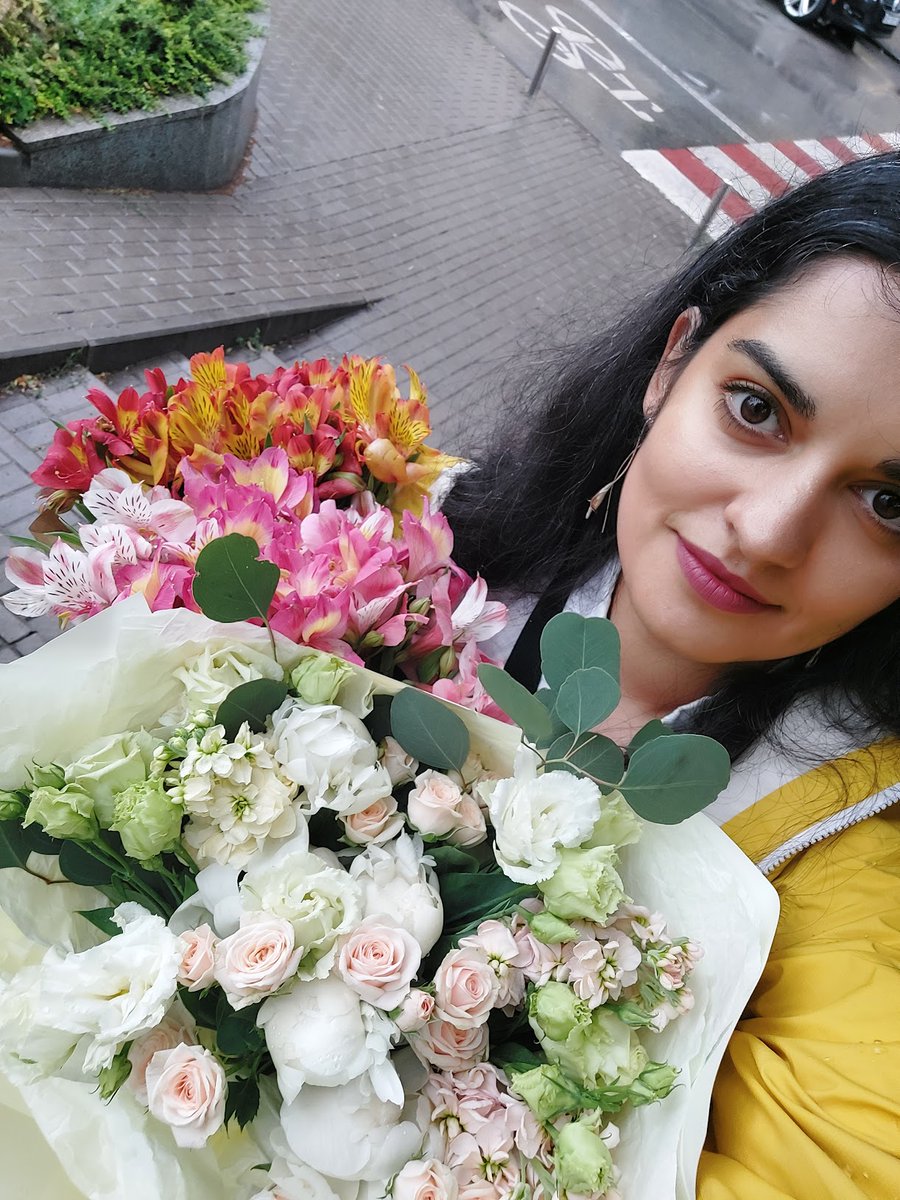 Of course, the main reason for coming to Kyiv to visit my brother Masi who was wounded. Btw, this is his dog. The dog is also a war veteran. Masi took him from the war zone in 2015. His name is Barmaley, or Barmik for short.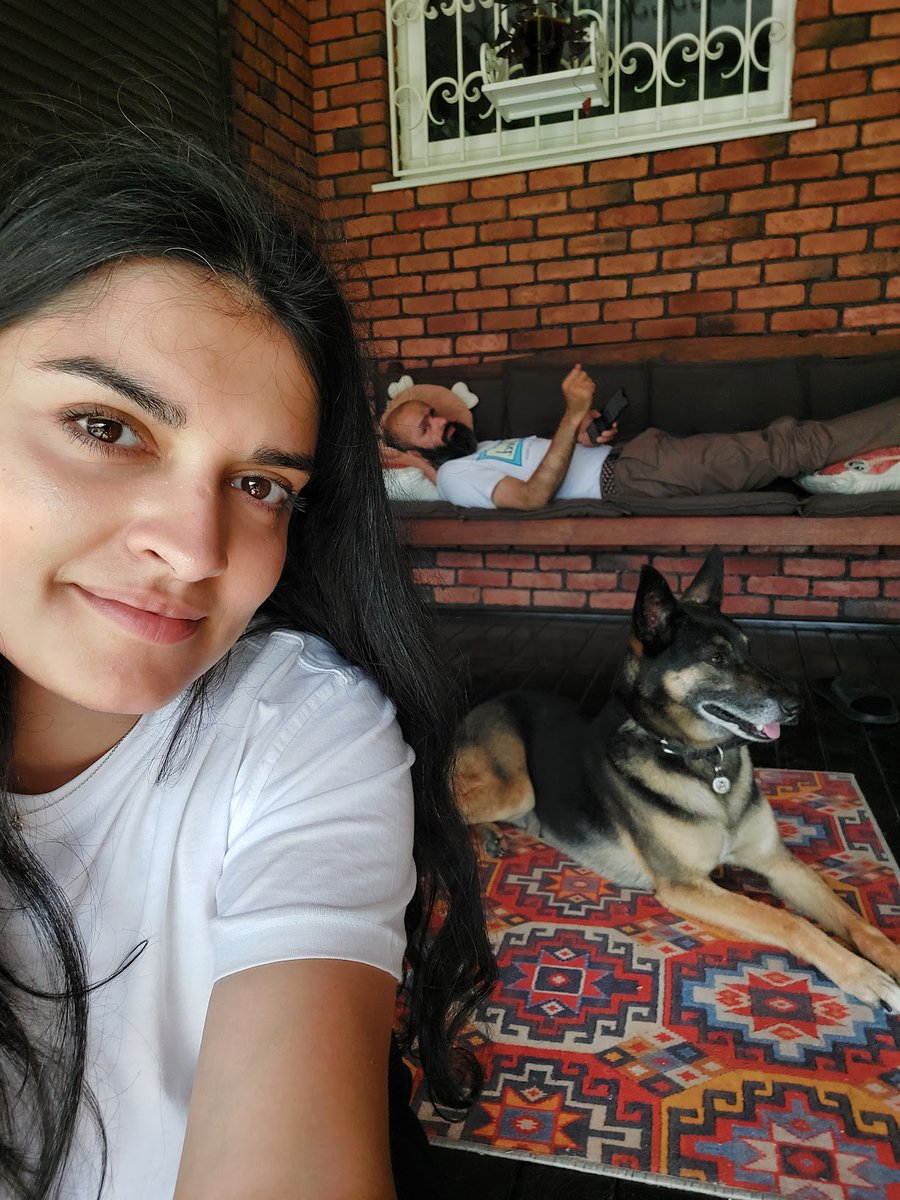 Once I was at a friend's place, and saw a cat. I didn't know my friend had a cat, so I asked about him. "Oh yes, someone I knew was killed in Bucha, and this is his cat. Now we are living together."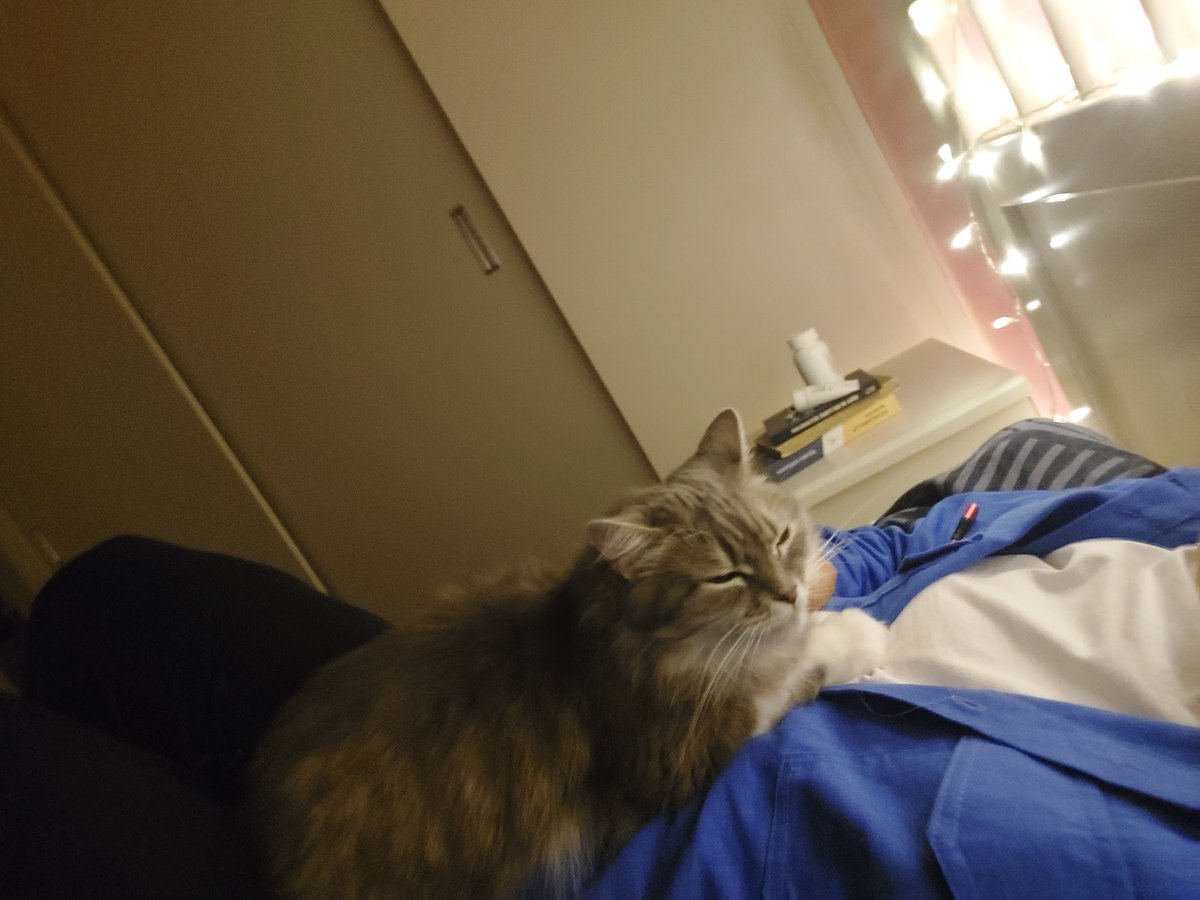 This is where it hit me. The word "war" seemed to me like a giant wave that could crush you. In Kyiv, I could see individual drops of this wave: lives of people ruined or full of everyday grief. Each small talk with ANYONE discusses survival, death, or loss.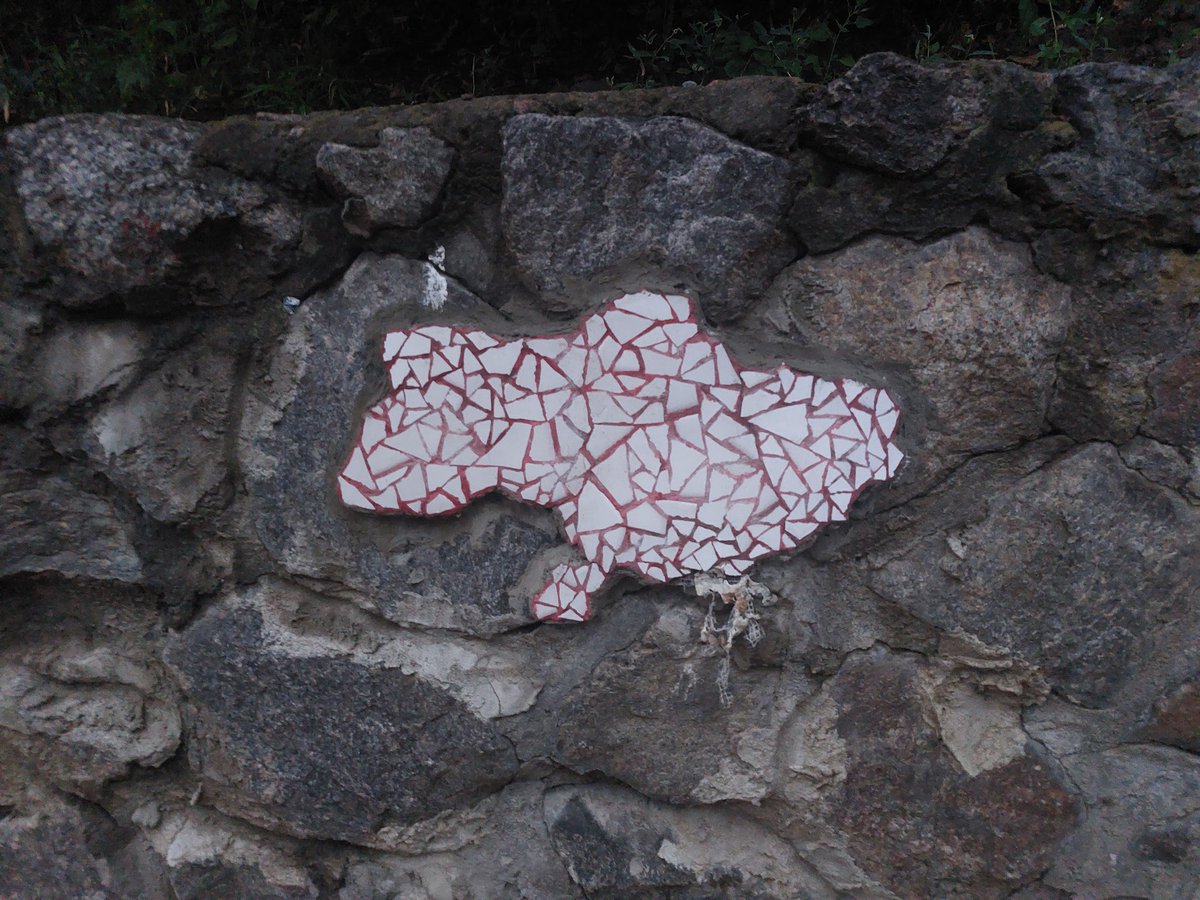 I don't know why people assume that living during wartime means being scared. No, living in wartime means trying to live your life, trying to take back that life that was stolen from you.
I have a favorite spot in Kyiv. When I am in the city, I usually come there almost every day.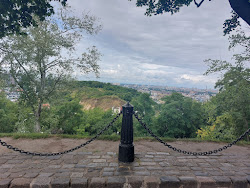 I was going back by train as well. Kyiv's railway station was quiet because men and women silently hugged each other on the platform. Men remain on the platform while the women leave on the trains. Scattered families, each waging their own battles.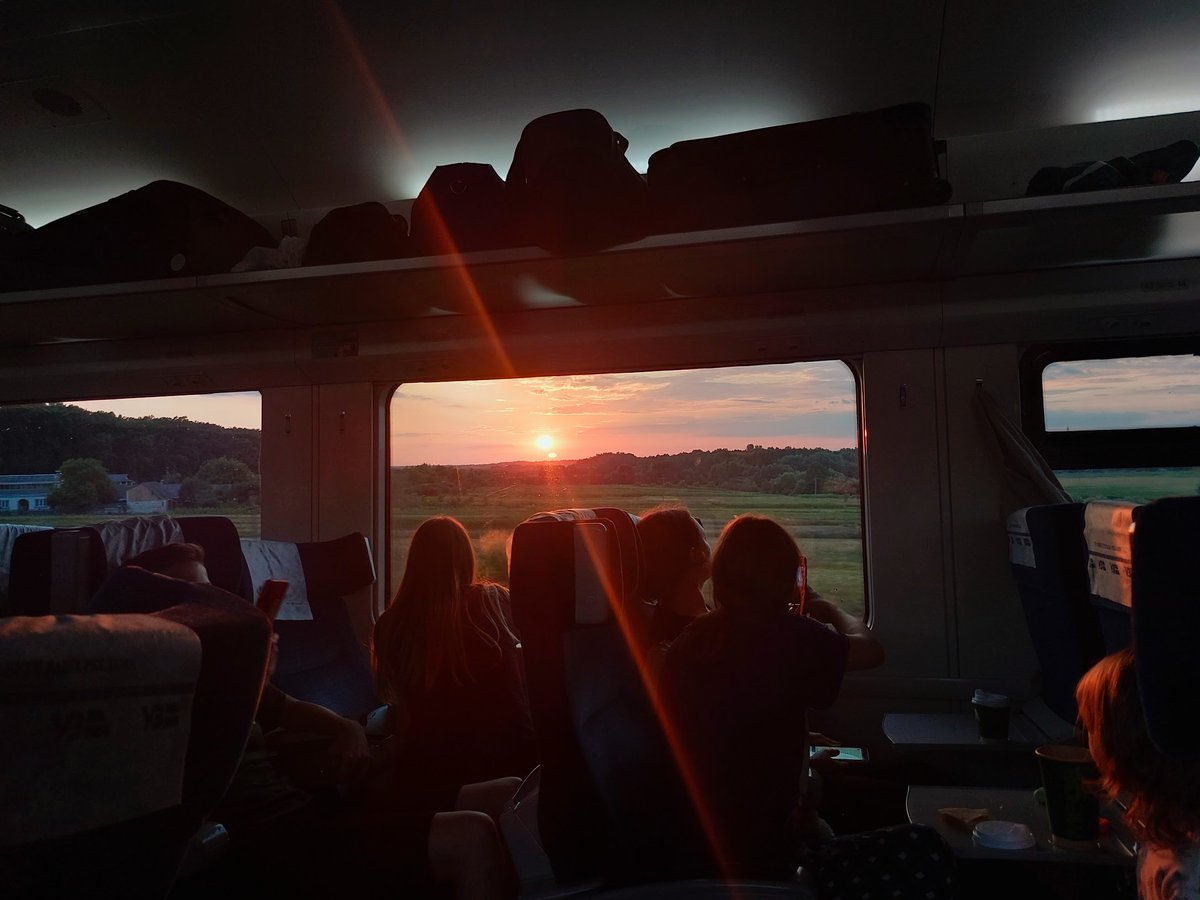 I realized what is the biggest difference between life in Ukraine and abroad:
When abroad, we Ukrainians are very lonely because we know that no one understands us. You're a party pooper who always talks about war. "Too much war," my friends once told me. It's too much for me too, but we have no choice.
In Ukraine, it is the opposite. The people are very consolidated. I have never spoken so many tender words to my loved ones and friends; I have never felt so much support. I had a feeling that the whole world has got my back.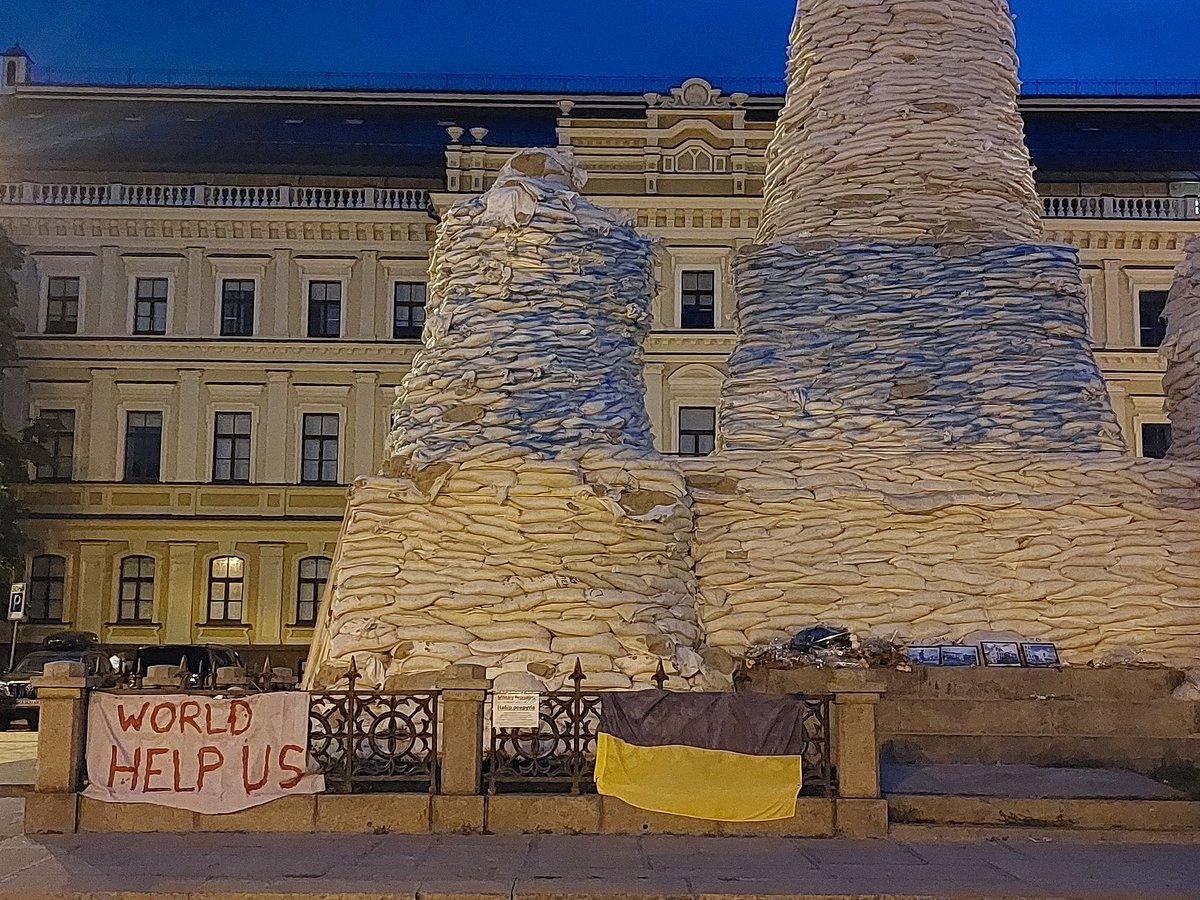 However, living with the war and its consequences is crushing, because of the feeling of injustice. This is the hell that the Russians have turned our lives into. Joke's on them, our people will have a good laugh and a BBQ in hell.